Februar 2006
Coyote on Convent
Quite some people seemed to be desperate for a perfect Mexican night out. They enjoyed great food, 75 Margaritas to spin their heads and a perfect location ...
We hunted down the Coyote and combined it tastefully with the GOYP networking event (a quite natural fit - isn't it?!).
The pictures only partly reflect this very nice event. About 70 to 80 people visited - and be assured, everyone loved the snacks! This was one of the rare occasions where people give up looking cool while they actually run to the plates, fighting off others and conquering the remaining snacks for themselves. Yup, we did it too and the snacks were worth it!
What the Coyotes say about themselves:

With its flagship in Hong Kong, now a raving success, a premier margarita bar and Southwest Grill restaurant known as "Coyote on Convent" has now came to Bangkok. Coyote on Convent is a lively and vibrant place that truly fits in with the Mexican ethic of wholesome food and plenty of drinks. The bright orange walls and light blue trimmings offer a wonderful atmosphere with the stand out large, oval shaped, copper coated bar area, behind which cowgirl waitresses. There are the largest collection of Tequila, Mezcal, and more than 75 Margaritas with exotic ones like Mint Chocolate Margarita, Butterscotch Margarita, the chili-infused Cajun Margarita, Black Forest Margarita, Strawberries 'n Cream Margarita including our own inventions like the Gingerbread Margarita and the Apple Pie Margarita. Coyote offers unique appetizers like Sopa de Ajo - Roasted Garlic Soup served with cilantro pesto and a hint of lime); Empanadas Carnitas - Cornmeal Pastries stuffed with Spicy Pork and a Fire-Roasted Tomato Salsa. Coyote also offers all-time-favorites Mexican dishes such as Quesadillas, Spicy Chorizo, Mixed Mushroom, Spring Onion, Grilled Chicken), Coyote Nachos, its own version of chunky nachos served with shredded grilled chicken and diced chorizo, Cowboy Skewers.
And the Big Burrito -- a whopping 12-inches hand-rolled flour tortilla wrapped around choice of fillings. For those with a sweet tooth, try Coyote's Dessert Quesadilla, and Peach & Pecan Chimichanga with Raspberry Sauce, made with light deep-fried pastry and vanilla ice cream.

For those who likes hot sauces, we import more than 100 different hot sauces from the USA and Mexico. With names like 'Baboon Ass Gone Rabid Hot Sauce', Dave's Total Insanity Sauce', 'Crazy Mother Pucker's Cayenne Concoction', 'Mad Dog's Revenge', 'Ass in the Tub Special Reserve' and our favourite; 'Colon Blow Hot Sauce', these things can seriously ruin your day and even the Thais will struggle with some of them.
Coyote is open everyday from 11.00 am to 01.00 am. For reservation, please call 0-2631-2325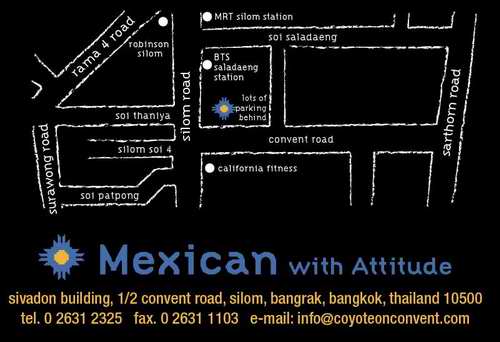 &copy 2005 Hoffrichter Consulting Co. Ltd., Bangkok
"ProDoc", "ProAnalyse", "ProOptimise" and "ProPerformance" are trademarks of Hoffrichter Consulting International
"ARIS", "IDS", "ARIS Process Performance Manager" are registered trademarks of IDS Scheer AG, Saarbrücken
The German Open (young professionals) is an open networking event for approachable, open minded Germans and other nationals in Bangkok, Thailand.